This is going to be another wonderful Easter Parade!
Scheduled for Easter Sunday, April 4
th
, 2pm - 4pm the parade will take its usual course from Munro Park Ave to Woodbine Ave along Queen St.
This is a Beaches Lions tradition dating back to 1966
Last year over 100 floats and 10 marching bands added to the parade festivities and entertained thousands of on-lookers.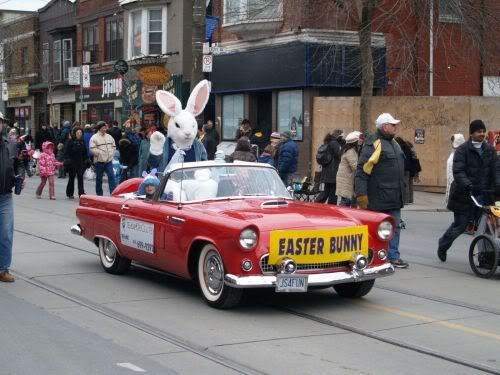 Please come down to enjoy the parade and be sure to forward us your photos and videos of the 2010 Beaches Lions Easter Parade
----------------------------------------------------------------------------------------
DeClute Real Estate Offices
The DeClute
Real Estate Offices have begun "The Great Easter Bunny Give Away"
You can enter to win this 20LB
Chocolate
Easter Bunny right on this site.
Also the DeClute
Real Estate Agents will be handing out entry cards at the parade as they escort the Easter Bunny in their classic T-Bird, it has become a fixture of the Beaches Lions Easter Parade over the past twenty something years of driving the "Bunny of Honour"
You can pop in to the DeClute
Real Estate office, to see the much sought after 20LB Belgian Chocolate Bunny, at 2241 Queen Street.
Buy the finest Belgian Chocolate at "The Nutty Chocolatire" in the Beaches @ 2179 Queen St E